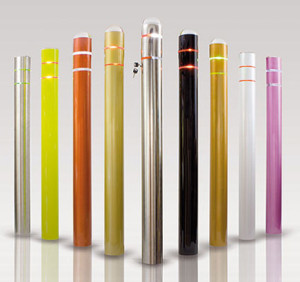 Nautex lighted bollards serve the purpose of marking the external areas permanently or temporarily off limits to urban traffic.
Removable:  they can easily be placed in their base thanks to an easily-reached lock. They can then be blocked so that no one can arbitrarily remove them.
Should traffic circulation be resumed in the restricted area, it will be sufficient to insert the key in the lock, unlock the bollard and remove it, replacing it with the protective filler.
Traffic will then be able to circulate once more in the formerly restricted area.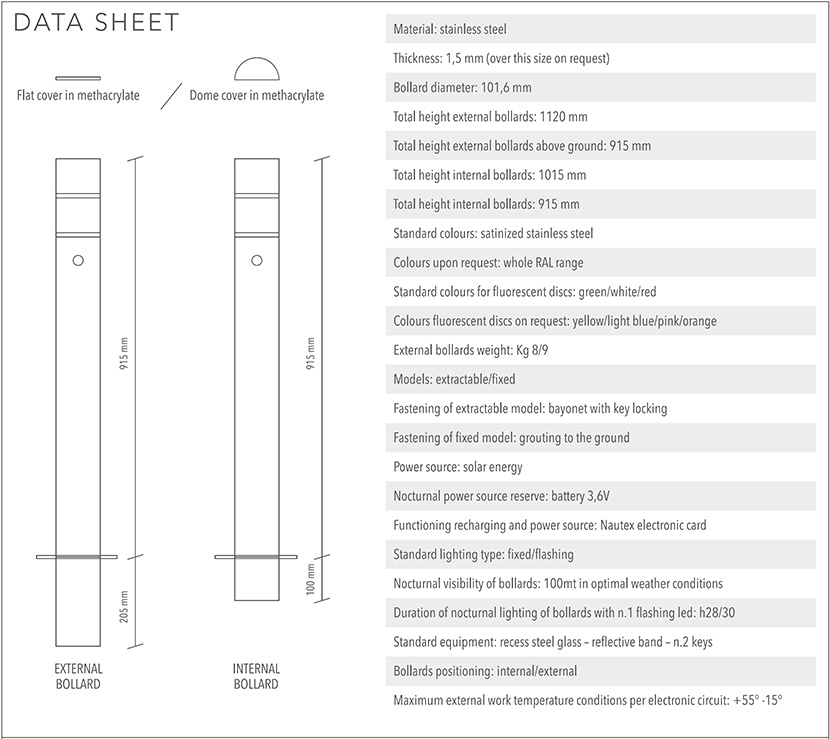 Solar Power: Another characteristic of our lighted bollards lies in their autonomy from the point of view of energy. No electric source is required.
The bollards rely on a small solar panel at the top, which is protected by a sturdy, transparent covering. The electrical circuit, which we also produce, is in the same place, with lithium batteries which ensure continuous illumination throughout the night, thanks to a light-triggered on – off system (on at dusk, off at dawn).
High luminosity fluorescent methacrylate: The glowing disks that characterise Nautex solar bollards are in high luminosity fluorescent methacrylate, making them readily visible from a great distance.
Low cost handling:The alternative reinforced cement columns and the flower pots produce moving costs superior to the purchase price of the columns themselves.
Lighted Nautex traffic bollards, strong but light-weight, can be moved by anyone, with no additional costs for machinery or transport.